What are the advantages of setting up an account ?
Having a personal account makes buying items from our Teikajewelry e-shop so easy.
– Your personal details are saves from an order to another.
– You can create a whishlist for easily finding your favorite items.
– You will receive exclusive offers.
– You will have a record of your order history and you can download your invoices at any time.
What if i do not want to receive the newsletter ?
When you set up an account, you will be given the option of subscribing to our newsletter.
Should you subscribe to our newsletter and change your mind, simply on the link to unsubscribe at the bottom of any newsletter you have received. By doing this you will no longer receive our newsletter. Your account will remain as before.
Is it safe to shop on the Teikajewelry website ?
Secure online transactions are ensured using existing protocols. Details of cards numbers used during the payment process are not kept on the Teikajewelry website but on the secure site operated by our bank.
Which methods of payment are acceptable ?
You can pay using major credit cards or PAYPAL.
Acceptable cards include : MasterCard®, Visa®, American Express®.
What are the delivery cost and shipping time ?
If your order is placed Monday to Friday, it should normally be processed within 48h unless indicated otherwise by us.
You will receive an e-mail to confirm processing and dispatch with a tracking number. Cost and shipping times usually depends of the delivery address.
It is specified that the prices displayed on the Website are exclusive of all customs taxes. Customs duties, local taxes or import duties may be due. The cost and taxes related to the delivery of an item are not billed by, nor part of KENLIKA's responsibility.
You will be obliged to pay all the import or local taxes applicable to your order and levied by the country you are shipping to.
What is the delivery zone for orders via our e-shop ?
We deliver worldwide using DHL within 2 to 7 days depending of the delivery address in the Following countries.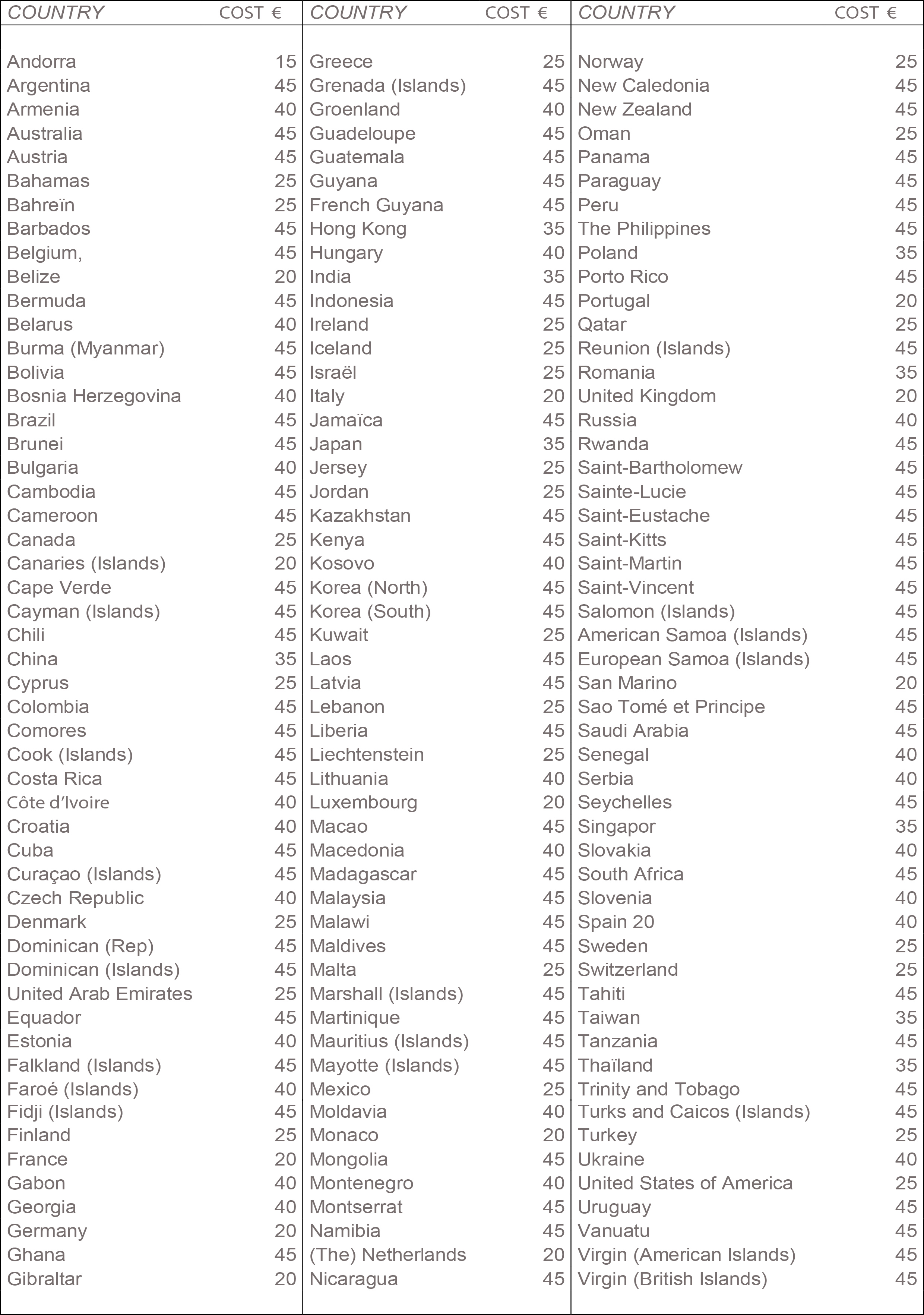 Will it be possible to exchange my jewel  ?
We hope that you will be delighted with the refinement of your jewel especially embroidered for you with the utmost prevision.
Each piece which requires many hours of precise handwork to order may neither be exchanged nor refunded.
In order to preserve the jewelry, avoid contact with water, grease and perfume.
If wet, dab gently the embroidery with a soft white cloth without rubbing.
The golden patine tends to disappear over time. This is a normal result from wear and tear that will reveal the silver 925.
Silver naturally oxydizes with air and humidity.
Store it in the protective case provided.
Any imperfection inherent to small-scale individual fabrication only serves to enhance their unique beauty.
I saw a piece of jewelry i liked in your e-shop and now i can't find it anymore. What should i do?
The item was probably from a previous collection that is no longer for sale. However we suggest that you contact us with the details and we shall do everything in our power to source the item to you. Please contact us at [email protected]
All Teika jewelry is gift-wrapped in a fabric pouch wich is then inserted in a gift box – printed in our Zellij pattern, to protect it fromtransit damage.